Gift-giving is one of the most exciting parts of the festive season…
However, it also just so happens to be one of the most expensive parts of the entire year. And for students in particular, it can be rather daunting when trying to figure out how exactly to buy great gifts that your loved ones will enjoy all on a tight student-budget.
With a team made up of recent graduates, we at My Baggage understand all too well what it's like trying to do Christmas on a teeny tiny student-budget. It ain't easy. That's why we've put our heads together to come up with the ultimate Christmas gift guide for students, compiling a ton of last minute gift ideas to suit all kinds of budgets.
Whether you're buying for a relative, a friend, your other half or otherwise, we're sure that your loved ones would be happy to receive any of theses gifts. You won't have to worry about breaking the bank or living off baked beans for the rest of the academic year…
You might even spy something that could go on your own wishlist…
£10 & Under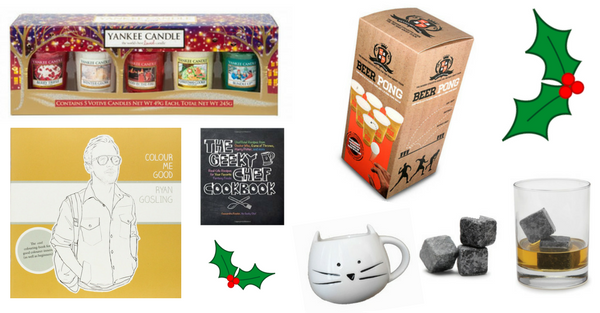 Whiskey Stones – Know someone who loves their whisky? Give them these handy stones that will keep their beverage of choice cool without watering it down!
Beer Pong Set – If you know someone who loves their party games (with the added bonus of alcohol) then this super affordable set is perfect for them. Buy it for your housemate for the ultimate drinking game!
Cat Mug – Who doesn't love to receive a cute, novelty mug at Christmas time? If you have a cat lover in your life, then this is the perfect mug for them.
Ryan Gosling Colouring Book – Hey girl, do you know any Ryan Gosling fanatics? They are bound to love this colouring book…
Hungry Student Cookbook – If you know any fellow students that need a hand with their cooking, this could be the perfect gift for them. After all, fending for yourself in the kitchen is one of university's biggest challenges…
Yankee Candle Set – Candles are the perfect gift to receive during the festive season. An easy win for anyone!
Grow Your Own Cactus – If you know someone who is into their greenery, then this is the perfect gift for them. Any cactus lover is going to love growing their very own!
Fleecy Hot Water Bottle – A fleecy hot water bottle is the perfect gift for anyone at this time of the year when the nights are cold and dark – especially any fellow students!
Christmas Coffee Shots – If you know a coffee addict, this gift makes for the perfect addition to their stocking. Five Christmas flavoured syrups that they can add to their hot beverage, including gingerbread and orange chocolate!
Sleep Kit – If you know someone who has trouble sleeping, they'll be more than thankful for this gift. The kit includes a pillow spray, which helps to prepare the mind and body for sleep.
Keyboard Cover – A pretty keyboard cover is a cool gift to give to anyone with a laptop – there's a ton of different designs to choose from, too!
Geeky Chef Cookbook – If you know someone who's into Harry Potter, Game of Thrones, Doctor Who and all things geeky, they will love this cookbook. With recipes to make all kinds of foods and drinks inspired by their favourite TV shows and films.
Pooch Selfie – Know someone who's obsessed with their pet? Get them this pooch selfie, so they can take Instagram snaps with their furry friend!
Lovehearts Tealights – The novelty of Lovehearts sweets never gets old, so why not give them to someone in candle form? With the classic Lovehearts scent, you can't go wrong.
Christmas Jumper Mug – Everyone loves a good ol' hot drink at this time of the year, so why not make it that little bit more special for someone in a mug with a festive jumper?
 £11 – £25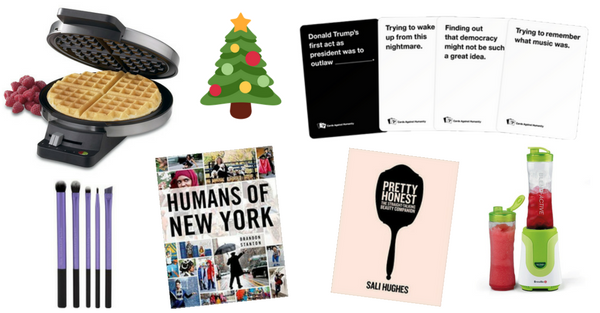 Cards Against Humanity – If you're stuck for a gift to buy for someone, Cards Against Humanity is the perfect option. It makes for the perfect game that a bunch of people can get involved it – you could even play it with your nearest and dearest on Christmas Day. Maybe leave your grandparents out of it though…
Game Of Phones – Another fun game perfect for a group of people, where you can use your phone as the ultimate gaming partner.
Question A Day Journal – This journal is a nice, meaningful gift to give to one of your loved ones. By answering a question set upon by the journal every day, it shows you what was going through your head for five years of your life.
Real Techniques Makeup Brushes – A makeup brush set is the perfect gift for any makeup lover that you might know. And you can't go wrong with a brand like Real Techniques.
Dressing Gown – Everyone loves to own a dressing gown – and it may not necessarily be something that you'd buy for yourself. So treat one of your loved ones to a snug dressing gown to lounge around in over the festive period.
Blend Active Smoothie Maker – A blender is just one of those household items that's
always handy to have. This super affordable smoothie maker by Blend Active is the perfect pick.
Waffle Maker – Who doesn't love waffles? Another household item that someone may not necessarily buy for themselves.
Cocktail Set – If you know a cocktail lover, gifting them their very own cocktail set is the perfect way to their heart. They can become a fully-fledged mixologist in no time.
Pretty Honest – This book by author Sali Hughes is described as the perfect companion for any beauty lover. It's witty, wise and truthful.
Lauren Graham: Talking As Fast As I Can – Fans of Gilmore Girls will love this new release from Lauren Graham, a book about life, love and working as a woman in Hollywood.
Photo Frame – A photo frame is a perfect gift for any of your nearest and dearest, whether it be a relative, a friend or your other half. You could even fill it with your own personal, sentimental photos to make the gift all that more special.
Humans Of New York – This book makes for an awe-inspiring coffee table read. Filled with intriguing stories straight from the mouths of humans of New York City.
Portable Charger – If you know someone who is constantly on their phone, this portable charger is the perfect accessory to them. They can ensure their phone is at full power all day long!
iPhone Lens – If you know someone who is a keen iPhone photographer, then they will love these variation of lenses to play about with.
Cinema Light Box – This light box makes for the most beautiful decoration. You can personalise your own messages and change it as often as you like.
£25 – £50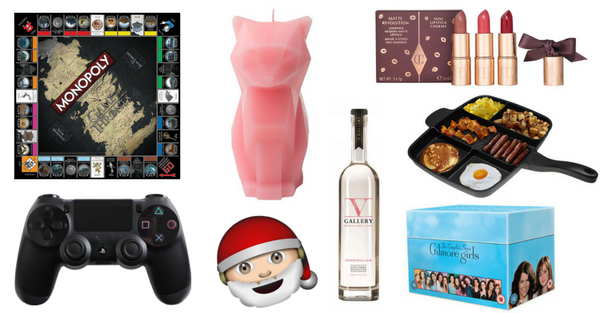 Drake Life Size Cut-Out – If you know any keen Drake fans who weren't able to get any tickets to his upcoming tour, this is the perfect gift…
Gilmore Girls Boxset Seasons 1-7Â – Give the Gilmore Girls fanatic in your life the perfect opportunity to binge watch their favourite show.
Disney Monopoly – Monopoly, with a Disney twist! Any Disney fanatic would love this retro board game as a gift, and everyone can get involved.
PS4 controller – If you know someone with a PS4, buying them a brand new controller is a perfect choice. It means you can also get involved in the gaming…
Coffee Machine – If you know a coffee lover, there's no better way to their heart than with a coffee machine. They can make their very own barista style coffee at home.
Curling Wand – A curling wand is the perfect gift for the girl (or boy) who has everything.
Master Pan – For those who love to cook a mean breakfast, the master pan will make their life so much easier. It's a multi-section frying pan that takes away the pain of struggling to cook everything at once!
Vintage Radio – A vintage radio is not only perfect for music lovers, but also makes for a beautiful decorative feature in any room.
Brewdog Punk IPA Beer Making Kit – If you know any craft-beer lovers, give them the opportunity to make their very own!
Game Of Thrones Monopoly – Similar to the Disney Monopoly, this is the classic board game with a Westereos twist. Any Game of Throne lover will be excited to delve into this.
Marshmallow and Toffee Fudge Flavoured Vodka – Premium vodka in the sweet flavours of marshmallow and toffee fudge. Certainly not your regular pre-drinks beverage of choice…
Charlotte Tilbury Matte Revolution Mini Lipstick Charms – Give the gift of luxury makeup to the beauty fanatic in your life with these high quality lipstick charms from Charlotte Tilbury.
Baylis & Harding Gift Set – Give someone the gift of a pamper session at home with this festive themed gift set from Baylis & Harding, which includes a candy cane scented body wash and a vanilla frosting scented body lotion.
Bluetooth Speaker – This water resistant and sand proof speaker gives someone the chance to enjoy their music both indoors and outdoors.
Pyropet Candle – This is a super quirky gift for any candle lover. They are a new take on candles, combining candles and contemporary macabre art. As you burn these cute figures, the wax melts to reveal the beast of the animal inside.
£50+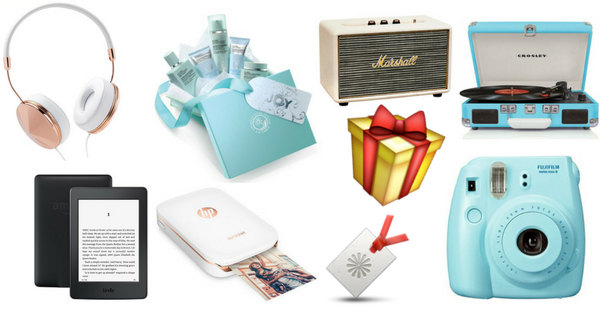 Instax Mini Camera – This polaroid camera makes a perfect gift for the keen photographer in your life. They are available in a variety of colours, too.
HP Sprocket – This handy little device allows you to print instant, polaroid-like photos straight from your smart phone. It's conveniently travel sized, so you can take it with you everywhere! This is the ideal gift for anyone.
Frends Headphones – Everyone loves to receive a pair of headphones, and these beautiful Frends headphones are no exception.
Crosley Record Player – Treat the music lover in your life to the dreamy gift of a brand new, aesthetically pleasing record player.
Liz Earle Gift Box Collection – This gift set from Liz Earle is the perfect luxurious gift for the beauty fanatic in your life. The set includes a nourishing cleanser, tonic and moisturiser.
Amazon Gift Card – If you're completely stuck for a gift to purchase for someone, why not treat them to an Amazon gift card? You can't go wrong!
Kindle – For the avid reader in your life, allow them to keep all of their reads in one place with the super portable Kindle.
Game Of Thrones Box Set – Who doesn't love Game of Thrones? Give someone the perfect binge-watching opportunity by treating them to the boxset of HBO's most popular show.
Amazon Echo – The Amazon Echo is the innovative hands-free speaker that you control with your voice. The device plays music from Amazon Music, Spotify, TuneIn and more, as well as providing updates on news, sports scores, weather and more!
Marshall Acton Speaker – This high quality speaker is perfect for any music lover. It has the classic Marshall design with a vintage look, and carries a long standing tradition of loud sound.
There you have it! We hope our gift guide is able to give you some inspiration for all of your last minute Christmas shopping. Merry Christmas from all of us at My Baggage!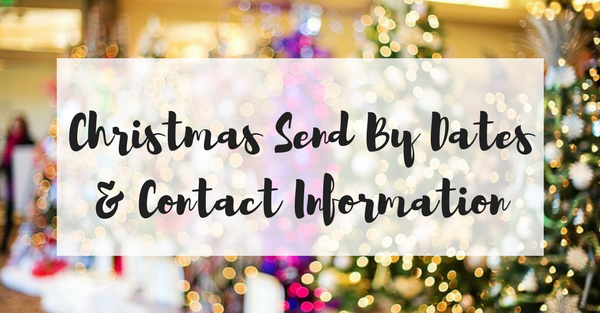 Read more:
10 Things That Happen When You Go Home For Christmas
UCAS Points – 5 Important Things To Know About The New Tariff
What To Do If You Forget Your UCAS Login Details
Learn more:
International Student Shipping