My Baggage provides convenient, reliable and low cost student and college shipping services. We can help you to get your luggage to and from university or college safely, easily and - more importantly - at a price you can afford!
Trust us - we're the student shipping experts! We specialise in shipping students' personal belongings across the UK, USA, throughout Europe and to 200+ countries worldwide. We deliver luggage across the globe for 30,000+ students every single term.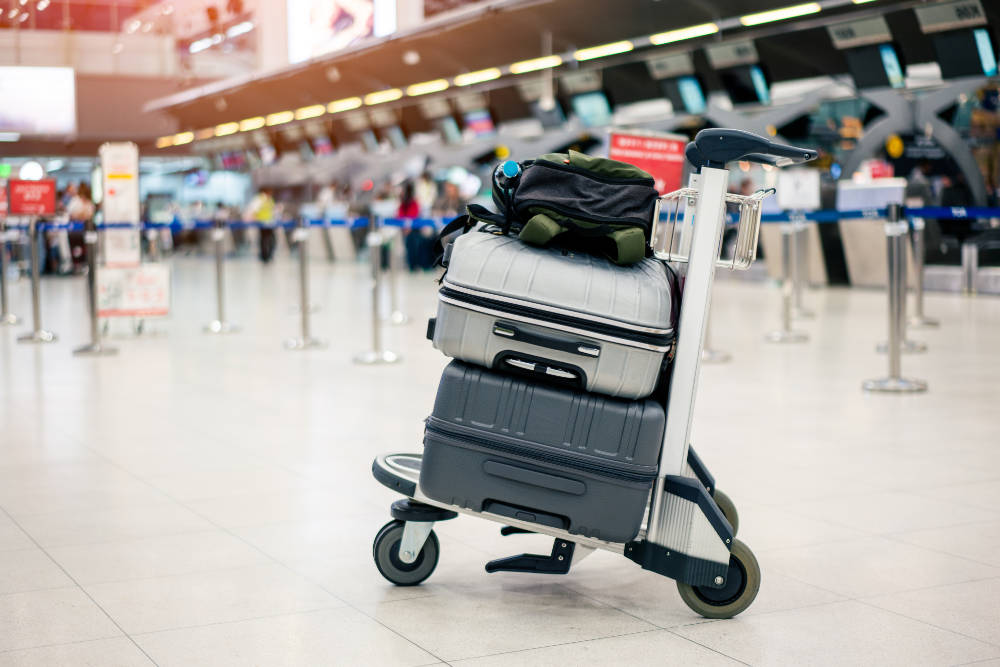 We make the process as smooth and seamless as possible so you can relax and enjoy your new destination without worrying about transporting your items.
Send Your Luggage The Smart Way
Whether you're moving to university or college for the very first time, with all of your worldly belongings in tow, or perhaps you're packing it all up and coming home at the end of term - either way, My Baggage can give you a welcomed helping hand with your luggage. What's more, we ship to and from universities and colleges all over the world, so whether you're studying in the UK or the USA - My Baggage can help!
My Baggage offers quick and convenient luggage shipping services for students. Our online booking system and door to door collection and delivery makes our service easy and convenient for busy students. We take care of everything for you; we will collect your luggage from you and deliver it, quickly and safely, straight to where it needs to go.
Cheap Student Shipping UK
My Baggage specialises in shipping students' personal belongings all over the world - as such, our prices are student-budget friendly. We offer both low cost UK and USA student shipping from as little as £16.99 within the UK or from $79 within USA. In fact, our prices can be up to 80% cheaper than using a traditional courier company directly. We even beat airline baggage prices, and we're cheaper than hiring a man in a van or a removals company.
What's more, My Baggage isn't just affordable. Our student shipping service offers fantastic value for money. We offer a huge 30kg/66lbs weight allowance per box or suitcase AND you can send as many items as you like with us.
Convenient and Reliable Service
The My Baggage team is made up of former students and recent graduates, so we understand just how stressful the process of moving to university or college, and moving home at the end of term, can be. For that reason, we make it our top priority to make your experience as stress-free and as manageable as possible. All in all, our stress-free service allows you to relax and enjoy what should be one of the most exciting times of your life.
By booking with My baggage, you'll have one less thing to worry about when making your journey. You can travel without heavy luggage weighing you down AND we offer door to door collection and delivery, so you don't even have to leave the comfort of your own home.
That said, we understand that when it comes to your personal belongings, it's natural to feel apprehensive about handing everything over to a delivery driver. However, at My Baggage,we strive to provide a reliable service that you can trust. If you happen to have any questions or concerns along the way, our dedicated customer support team will be more than happy to help. We pride ourselves on our unrivalled customer support; thanks to many years of experience, our team are experts in shipping luggage all over the world. Don't hesitate to contact us via phone, email or live chat.
As well, we offer:
Convenient door to door collection and delivery.
Full online luggage tracking with SMS and email notifications.
£100 free compensation cover per shipment.
Want to know what other students think about My Baggage? Read our reviews.
Stay Updated
To give you that extra peace of mind, My Baggage will keep you updated from the moment you place your booking until the moment your items arrive safely.
You will be given the option to opt-in for text and email notifications to keep you up to date on where your items are and when they have arrived. This means you don't have to waste time chasing up your shipment, or money on phone bills.
You will also be given access to full online luggage tracking information, which will allow you to monitor the process of your shipment every single step of the way. You'll be notified when your item is out for delivery - so you'll know exactly when to expect it.
Fast Student Shipping
At My Baggage, we understand that speed is a main factor when transporting your personal belongings to and from university. After all, the last thing you want is to book a shipment, only to wait days, or even weeks, for your all-important items to eventually arrive.
Thankfully, with My Baggage, you don't need to worry about waiting around. We offer super fast luggage delivery on many of our routes; with an Express Next Day service within the UK, 1-2 days throughout Europe and 1-3 day delivery worldwide. To see how fast we can get your luggage delivered to your university or college, simply get a quick quote!
International Student Shipping
Taking a gap year? Studying abroad? Going travelling?
My Baggage can help you with transporting your luggage overseas. We provide international student shipping to 200+ countries worldwide. Whether you're heading to a destination in Europe, the USA or even Australia! My Baggage can help you get your luggage there quickly and safely.
International Student Shipping
Taking a gap year? Studying abroad? Going travelling?
My Baggage can help you with transporting your luggage overseas. We provide international student shipping to 200+ countries worldwide. Whether you're heading to a destination in Europe, the USA or even Australia! My Baggage can help you get your luggage there quickly and safely.
When you book a bag on your flight, you have to keep in mind the airline's restrictive baggage weight allowances when packing up all of your personal belongings. It could mean that you may have to make the sacrifice that no student wants to make; leaving some of your beloved belongings behind. Even then, you might still be faced with a nasty surprise at the check-in desk, meaning you'll have to cough up extortionate excess baggage fees anyway. And, when you're getting by on a student budget, it's certainly not ideal.
Thankfully, My Baggage allows you to ship a massive 30kg/66lbs per box or suitcase at fantastic low rates. You'll also have the option to pay extra for even heavier bags, if you need to. With My Baggage, you won't have to worry about leaving anything behind as you embark on your international adventure.
What Can I Send?
With My Baggage, you can transport everything you need for university life. We're experts at shipping personal effects all over the world, so you can safely transport all of your clothing and worldly possessions with us. However, for security and customs reasons, there are certain items which are prohibited and cannot be carried on our services.
As a general rule, you can be sure that the following items are prohibited:
Aerosols
Animal Products
Cash, Credit Cards, Debit Cards
Dangerous Goods
Hazardous Goods
Liquids
Medicines
Passports or other confidential personal documentation
Perishable Foods
Plants
It is important to note that there are also a number of items that can be carried on our services, however, they would be sent at your own risk as they are not covered under our compensation cover. If you choose to send any non-compensation items, please ensure that they are packaged appropriately. To find out more about exactly what you can and cannot send with My Baggage, take a look at our list of prohibited and non-compensation items.
When sending your belongings with My Baggage, we recommend using either suitcases or strong, double-walled cardboard boxes to package your items so as they are suitable for transit. We advise against using fragile or expensive suitcases, as packaging is not covered under our compensation cover. With regards to boxes, it's always best to invest in a new, sturdy, double-walled cardboard box as they are most durable.
If you are sending any fragile or delicate items, we recommend using plenty of internal packaging to protect them during transit. You can use materials such as bubble wrap or newspapers. You can read through our complete packaging guide to find out more.
Customs Information
When shipping within the EU, goods do not pass through customs clearance and are therefore do not require customs documentation and are not subject to import tax or duty. If, however, you're sending to or from a country outside of the EU, such as Canada or the USA, you are then legally required to complete customs documentation for your shipment.
When sending outside of the EU, if your shipment does not have customs documentation attached, it will not make it past your local country border, and you may have to pay return charges to get it back. My Baggage will automatically provide you with the appropriate customs documentation for you to complete, print, sign and attach to your shipment.
How To Book With My Baggage
My Baggage makes transporting your luggage to and from university or college effortless. Our easy to use online booking system is available 24/7 and takes just a few short moments to complete. Simply start by obtaining an instant quote straight from our website. Once you've booked, we'll send you some shipping labels to print and attach to your items. After that, you can sit back and relax. We'll take care of everything else for you.
Are you a student? Get a quick quote from us now.
Great service, can recommend and will use again!
From the first enquiry to the actual delivery UK to Canada, I couldn't fault the customer service, online instructions, pick-up, tracking or delivery. Everything went to plan. A really good experience which I will have the confidence to repeat and to recommend.
Mrs. Louise Butler
My Baggage made the whole shipping process so easy
My Baggage made it super easy to order a pickup of our suitcase that we wanted sent home from our big trip to Switzerland ahead of us. They even helped with our customs forms. And they delivered on time, as predicted. I would use them again!
Karin A Grablin
Delivery Delivered in perfect condition and on…
Delivered in perfect condition and on time
Peerapon Wiratchapon
Outstanding Customer Service
MyBaggage performed very well in shipping cases from the UK-> USA when my daughter started Uni. Additionally, when there was a problem with one of the cases, I had a personal note from customer service to help sort it. Very helpful and impressive service. 5+!
David Henry Rowitch
Flawless experience
Flawless experience from start to finish. Dealt with a human called Evan who worked in tandem with the digital side of things to get my case back from Greece to the UK. Would use again and recommend to anyone.
Andrew Anthony
Worked beautifully
Worked beautifully. Suitcase picked up from my hotel and returned to US before I made it home! I had a hard time doing the forms for customs as confusing.
Helen Pennoyer
Very straightforward transaction
Very straightforward transaction. Bag delivered efficiently.
Jonnerz
Very easy to organize and drop off…
Very easy to organize and drop off suitcase at local depot in France. Delivery within a few days in the UK.
Tristan Bellingham
Forgotten suitcase back home from New Zealand
We unfortunately (own fault) left our suitcase in Auckland NZL(domestic flights). After a short search we found 'My Bagage'. It's not cheap to get your suitcase home from the other side of the world, (but comparing prices My Bagage is very competitive), but the service is excellent and very fast. Excellent response to questions (fast and clear).
Gabri Martel
Great all round service.
Great all round service.
MOMODOU WILLAN
Great Service - will use again
We decided to ship our daughters college baggage at the last minute (due to ongoing issues with lost baggage with various airlines). A My Baggage representative explained the process clearly and we registered online with ease - a very straightforward process. The courier arrived the next day to collect. The bags travelled from Switzerland to USA without incident, arriving well within the timescale given. Great service that we intend to use from now on.
Customer, Scotland
Great and seamless service
Great and seamless service
MOMODOU WILLAN