Going abroad as part of your studies is brilliant for several reasons…
It allows you to get away from everyday life for a bit, experience a new culture and language, meet new people and looks great on your CV. Also it's just fun and a great way to get away for a bit while still keeping on track with your studies. Madrid was recently named the best Erasmus city (Erasmus is the exchange programme for Europe) and I was lucky enough to spend five months in the glorious Spanish capital – here is why Madrid is the best place to go on exchange:
The Location
Madrid is ideally located as it's far enough away from the UK to feel like you are actually getting away but also close enough that you can easily go home for Christmas and in case of emergencies (you don't want to think about it but do because you never know when tragedy strikes)
The location (and cheap plane tickets) also mean your uni pals will be able to come visit and you can proudly show of your incredible skills of navigating the Madrid metro and your less impressive Spanish skills (or maybe that was just me 😉 Either way having your friends from uni visit when abroad is the BEST!
The food
Oh my god the food – the tapas, the Jamon, the tortilla, patata bravas, the paella, the croquettes, the chorizo ….. the list is endless and one more delicious than the other!
And the best thing is that Spain (at least compared to the UK) is quite cheap so eating out is much easier to justify on a regular basis. And towards the end of the month, do not worry – san montaditos (100 sandwiches) has you covered. On Wednesday and Sunday the full menu is 1 euro, need I say more?
And that's without even talking about the desserts – Churros will change your life and the Spanish pastry, oh dear lord (and that's coming from a Dane so I know).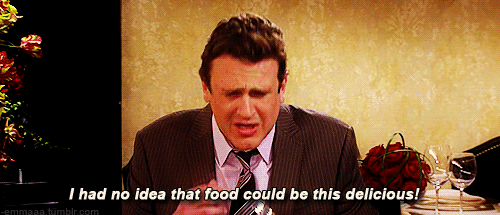 The Weather 
Oh my, seriously! 42 degrees in October? T-shirt and shorts in November and 18 degrees on the 20th of December? It rained more in the first two weeks I was back in Glasgow than it did my entire five months in Madrid. The Madrilenian's do get cold (but it's because they're spoiled and don't realise that 20 degrees in December is not cold). Go and enjoy five months of what you get a few days of during a British summer.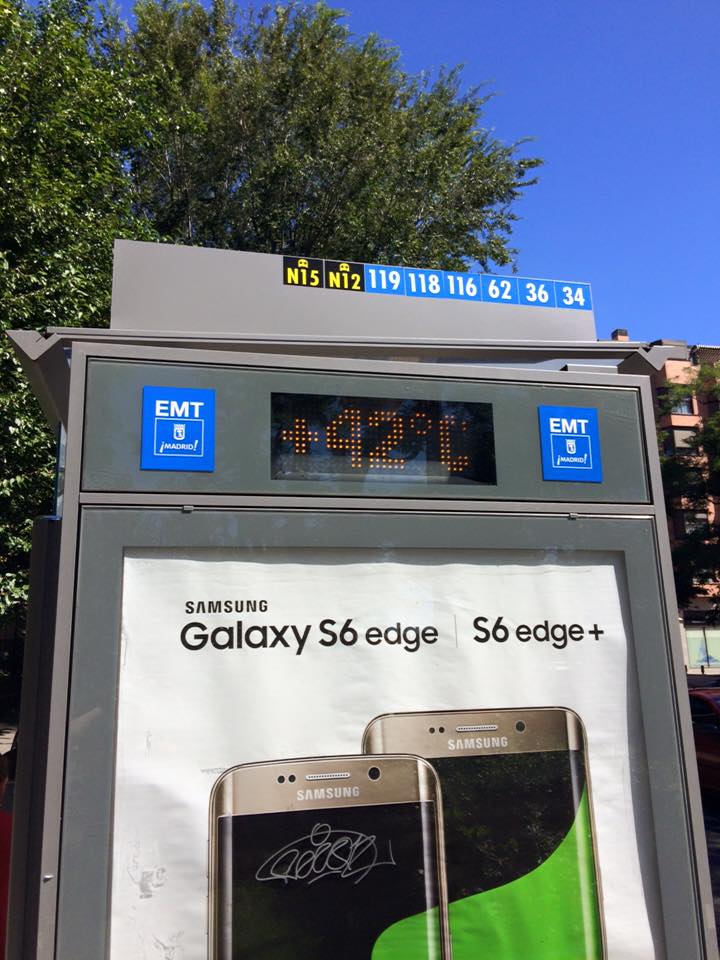 The sunsets
I am a sucker for sunsets but I'm pretty sure I'm not the only one and the Madrid sunsets are something special!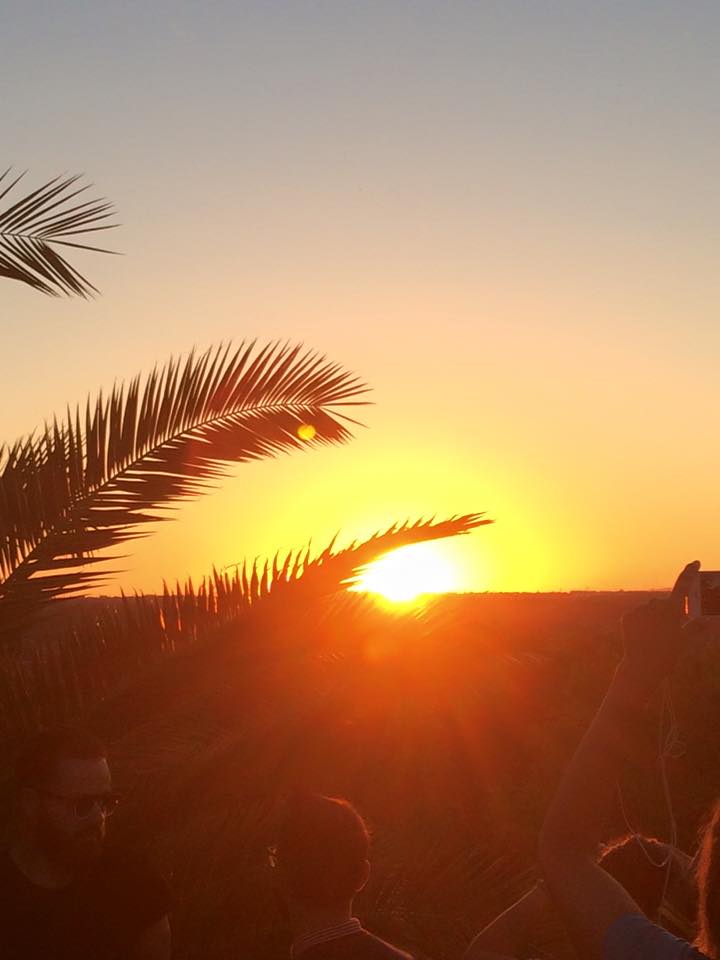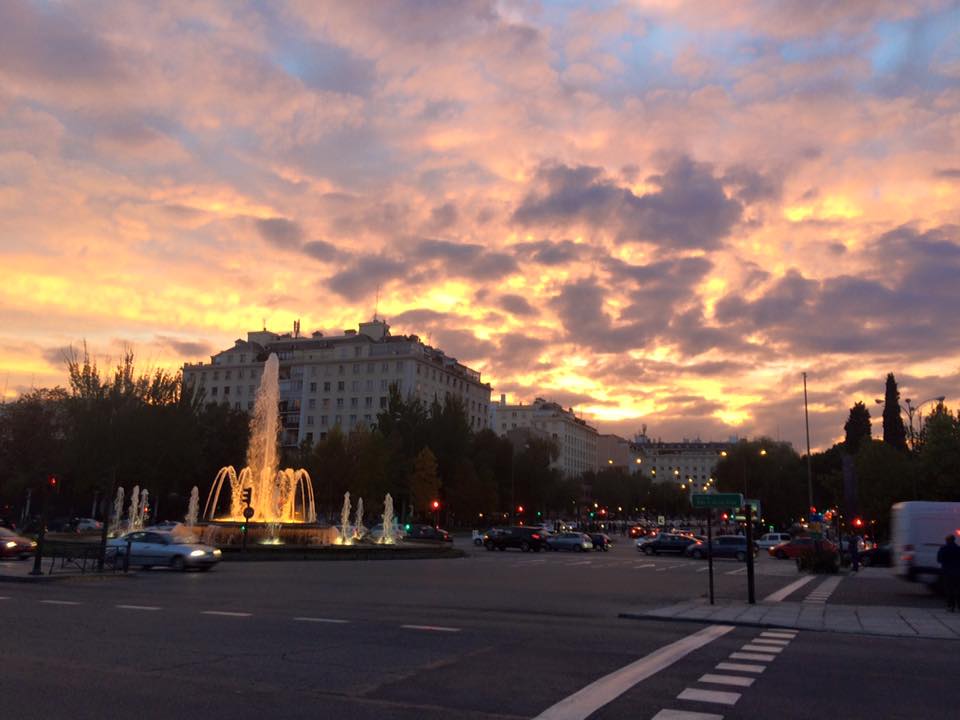 The Location part 2
Not only is Madrid extremely well located to get too from the UK but it's also perfectly located to travel around Spain and even Portugal, Italy, France and Morocco. And at very reasonable prices. Flights within Spain are extremely cheap, there are several organisations during trips for students and trains, buses and even blablacar make exploring the country both easy and cheap.
In my five months in Madrid I went to Salamanca, Toledo, Chinchilla, Albacete & Barcelona within Spain as well as Porto & Braga in Portugal (And that was a very limited amount of travelling mainly due to the next reason)
Also just the surrounding area of Madrid offers plenty to explore and great hiking opportunities – there are companies that organise these trips as well such as Hiking in Madrid! I had no idea Madrid is surrounded by mountains but it was some of the best days of my time in Madrid
The football
One of the reasons (okay the only reason) I did less travelling than my Erasmus friends was that I spent every second weekend at the stadium watching football. Madrid breathes and lives football like no city I have ever been to! If you love football – go immediately and even if you don't, go anyway for all the other reasons and it's likely the football will grow on you.
Madrid is home to not just one but two of the best teams in the world right now and also houses (at least this season) two other teams in the top division of Spanish football. Even if you hate football, a live match at the Bernabeu or the Calderón will impress.
To practice your Spanish skills, Madrid offers not only 1 but 2 daily sport newspapers that are 80% football and 20% other sports. Notice I said daily – yea they are pretty obsessed with the beautiful game.
The Art
If art is more your thing, Madrid has a lot of that on offer too. The golden triangle as it's known consists of the Thyssen-Bornemisza Museum, the Prado and the Reina Sofia. All are worth a visit and have free time slots for students so even if art isn't your thing, a visit is well worth it when free.
The people
Spanish people are lovely, even if you don't understand a word of what they say! However as an exchange student the people that you meet while on exchange is half of what makes the experience so unique. I was fortunate enough to live in a super international flat with people from Mexico, Venezuela, Portugal, Spain, Italy and Germany and at university, erasmus events and just out in the city you will meet people from all over the world and they will add so much to the experience and give you a worldwide friendship circle (and the chance to visit so many more places cause you now know people there)
The night-life
Madrid is a party city like no other! Every single night of the week there is something going on and as the third biggest city in Europe (after London & Berlin) there is also something for every taste! It doesn't matter if you prefer clubs or bars, dancing or karaoke – Madrid has it all! My favourite event was the Beer Pong events – if you're going to Madrid be sure not to miss those! Madrid never sleeps and something will always be happening and the parties go on until 6-7 in the morning so prepare yourself for one hell of a party.
And remember to get Churros on the way home.
The Spanish way of life
Did anyone say Siesta? Seriously, what a wonderful, glorious concept. Naps are genius – especially after a proper Madrid party that didn't end till the sun got up! It took me such a long time to get back into the "normal" way of life when I came back.
It did take a while for me to get used to the mañana, mañana culture that the Spanish so fully embrace and I did get slightly irritated at the slow pace of everything a few times but there is something wonderful about not being in a rush too and it's very different from the British way which is nice cause you're not going on exchange to do the same thing as you do at home.
The city in general
Madrid is stunning – from end to end it is just so beautiful! One building more beautiful than the next! I remember reading before I moved to Madrid that every building looked like it housed royalty and I tend to agree and then the one that does house actual royalty is pretty special too.
Five months in Madrid was no where near enough and I encourage everyone considering a semester or year on exchange to consider Madrid or even just someone wanting to go on holiday but be warned, you will fall in love and want to stay forever.
You might also like:
26 Signs You're A Student Who Leaves Everything To The Last Minute
24 Pictures That Sum Up Exam Season At Uni
20 Times You Wanted To Punch University Right In The Face