USA's trail of conspiracies
Whether you're a believer, skeptic, or just have an interest in the various phenomena that have captured the nation for decades; we all love a good conspiracy theory. With hundreds of conspiracy theories across the globe, it comes as no surprise we Americans enjoy our fair share of speculations and stories that oppose the status quo. In fact, 1 in 5 Americans believe in a conspiracy theory. Question everything, believe nothing – right?
So, why do so many of us believe conspiracy theories? Well, there are actually evolutionary origins that are hardwired into humankind, as we try to understand, decipher and find meaning around events that occur around us. From binging Netflix documentaries (come on, who didn't watch Filthy Rich last year?) to taking matters into your own hands and investigating yourself, we all have a guilty pleasure in believing the unbelievable. 
The best road trips are all about the scenery, affordable places to stay, and of course, good food. So, for the ultimate Route 666 road trip to visit the best mystery-covered hotspots in the US (and maybe even discover some new ones!), this is the article for you.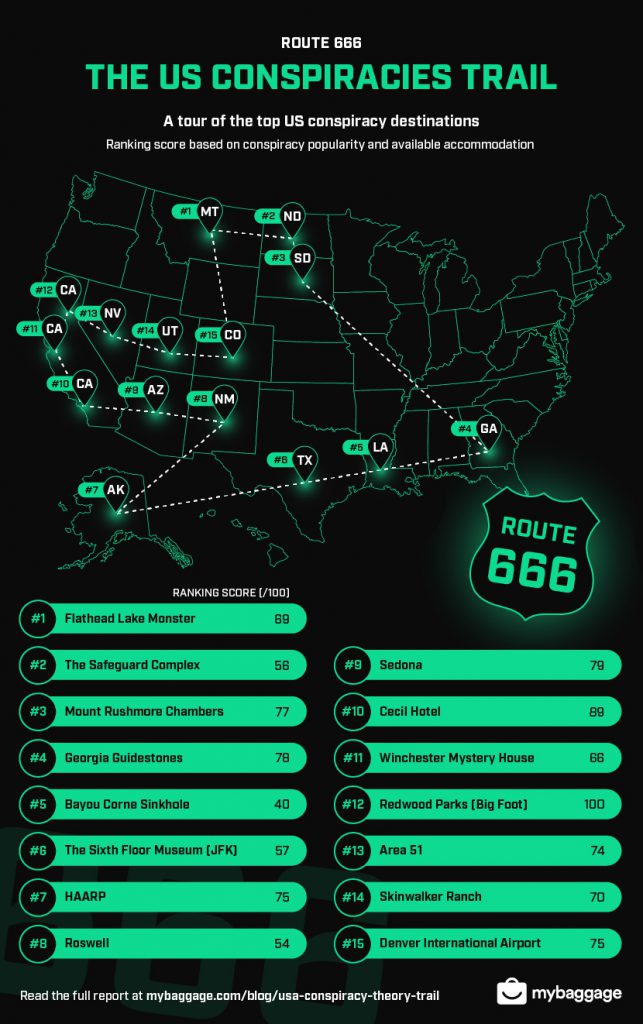 How to explore the top conspiracies
From 29% of Americans believing that humanity has made secret contact with aliens, to 37% agreeing that the world is run by a single secret group, there are hundreds of conspiracy theories and beliefs in the US to follow and look into. So, how do you choose which of these concepts to explore, whilst also enjoying an entertaining trip away?
To save you the legwork, we've created the world's first conspiracy theory vacation road trip map. Route 666 is designed for the ultimate conspiracy theory lover – it's the brochure you never knew you were dying to read. From government cover-ups to BigFoot himself, we promise you won't be disappointed. 
We've used multiple factors that make for the perfect conspiracy adventure, including: 
🏬  Number and cost of hotels nearby
⭐️  Star rating of hotels 
💻 Google rating of conspiracy 
🎭  Other nearby activities and sightseeing
🍔  Nearby food and drink 
🚶‍♂️  Ability to go off-grid
The top 15 conspiracy theory locations in the US 
Looking at every factor listed above, we've compiled below the ULTIMATE top 15 must-visit locations. These are the best conspiracy theory sites in the USA for overall popularity, number and cost of hotels, ability to go off-grid whilst visiting, and other enjoyable things to do nearby. Does your favorite make the list?
| | | | |
| --- | --- | --- | --- |
| Closest City | State | Conspiracy Theory | Rank |
| Sacramento | California | Redwood National and State Parks (BigFoot) | 100.00 |
| LA | California | Cecil Hotel | 88.81 |
| Phoenix | Arizona | Sedona Vortex | 79.10 |
| Athens | Georgia | Georgia Guidestones | 78.36 |
| Rapid City | South Dakota | Mount Rushmore Chambers | 76.87 |
| Denver | Colorado | Denver International Airport | 75.37 |
| Anchorage | Alaska | HAARP | 74.63 |
| Las Vegas | Nevada | Area 51 | 73.88 |
| Salt Lake City | Utah | Skinwalker Ranch | 70.15 |
| Missoula | Montana | Flathead Lake  | 69.40 |
| San Jose | California | Winchester Mystery House | 66.42 |
| Fort Worth | Texas | The Sixth Floor Museum (JFK) | 57.46 |
| Langdon | North Dakota | The Safeguard Complex | 55.97 |
| Roswell | New Mexico | Roswell | 53.73 |
| Baton Rouge | Louisiana | Bayou Corne Sinkhole | 40.30 |
1.Redwood National and State Parks (BigFoot), Sacramento, CA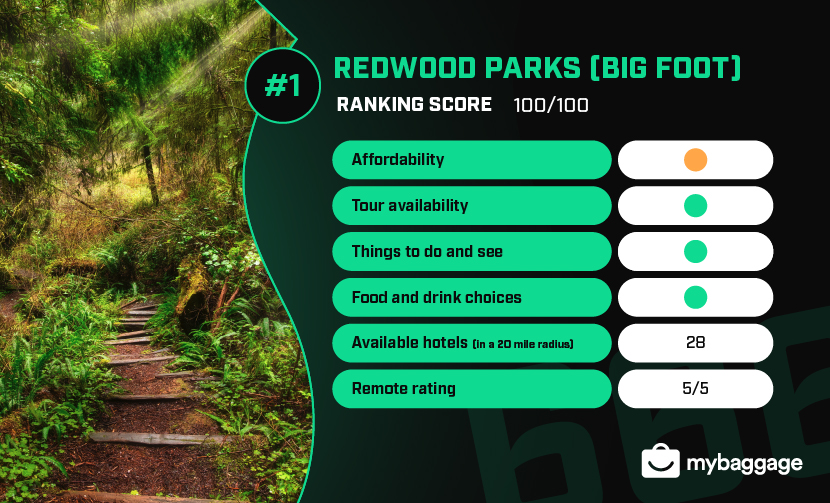 At number one is one of the biggest (literally) conspiracy theories in the US: BigFoot. Prominent in US folklore originating over the past 500-1000 years, the 1.8–2.7 meters (6–9 ft) creature has been claimed to have been sighted by thousands of people. Well..you certainly wouldn't miss him. Often described as a large, muscular, ape-like creature, covered in dark hair, the infamous alleged video of BigFoot was filmed in none other than the Redwoods.
Redwood National Park is a sight to behold in its own right, with 139,000 acres of forest and home to the tallest, oldest, and one of the most massive tree species on Earth. In addition to the redwood forests, the parks preserve other indigenous cultures, topped off with a beautiful coastline and numerous hotels with an average 5-star rating.
2. Cecil Hotel, Los Angeles, CA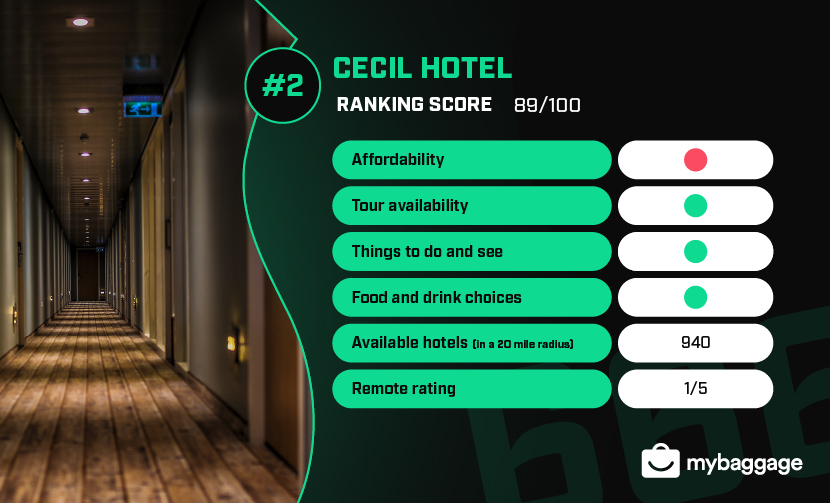 Also in California, conspiracy theorists can discover the Cecil Hotel – now renamed Stay on Main, as an (albeit, failed) attempt to distance the building from its past. As one of Downtown LA's oldest buildings, it may come as no surprise that the Cecil Hotel has seen more than its fair share of mysterious and evil happenings. Infamous for its serial killer stays (such as Richard Ramirez aka 'The Night Stalker'), disproportionately high number of suicides, deaths and murders. The Cecil Hotel was most recently in the media due to the Netflix docuseries, 'Crime Scene: The Vanishing at the Cecil Hotel', covering the tragic death of Elisa Lam.
To add to the mystery, the hotel is currently closed due to renovations that are scheduled to be completed in October 2021. Those who dare visit the dubbed "most haunted hotel in LA" are right in the city center, so can take a break from the macabre to enjoy all LA has to offer. With approximately 499 tours and sightseeing opportunities, you'll never run out of things to do.
3. Sedona Vortex, Phoenix, AZ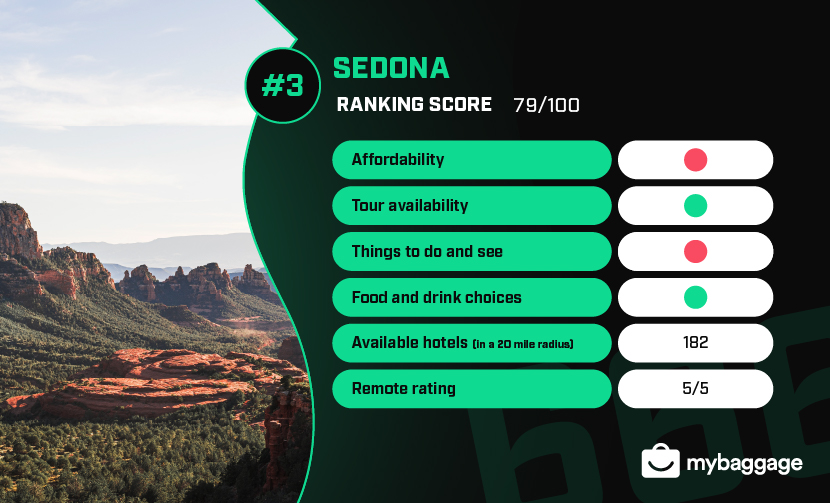 The appeal of Sedona goes much further than just its beauty – these famous red rocks in Arizona have centers of energy called a vortex. The benefits and properties of these vortexes are claimed to bring calmness, spiritual enrichment, healing and a pretty good Insta backdrop. Specific sites in Sedona such as Airport Mesa, Cathedral Rock, Bell Rock and Boynton Canyon each radiate their own energy, and tourists travel from all over the world for enlightenment.
As this place holds such special energy, it has become a hotspot for UFO sightings, while the spiritual awakening Sedona can trigger is a mystery in and of itself. Sedona has so much to offer, such as a UFO and vortex tour, spas and stargazing. Whether you spot an alien or simply return home feeling recharged and renewed, the Sedona vortexes are a must-stop on Route 666.
4. Georgia Guidestones, Elbert County, GA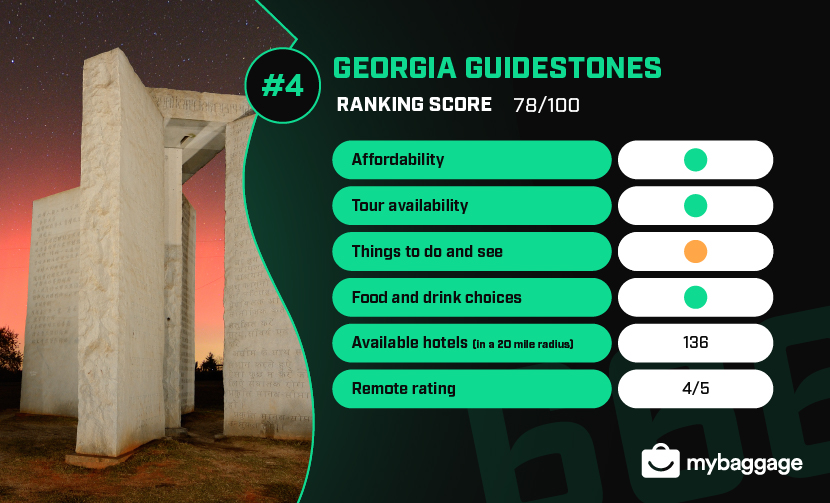 The granite monument erected over 40 years ago features inscriptions of 10 guidelines in multiple modern languages as well as four ancient ones. The authors are anonymous and seem to advocate eugenics and population control amongst other controversial beliefs. The debate of who wrote these guidelines and why is still popularly discussed today. With astronomical features and alignments, the Georgia Guidestones is a must-visit for any conspiracy lover as the secrets they hold are still yet to be uncovered.
40 miles from the nearest city, explorers can enjoy a tranquil getaway away from the hustle and bustle of everyday life. With numerous tours available, as well as 136 hotels in a 20-mile radius, this is a must-stop on Route 666.
5. Mount Rushmore Chambers, Rapid City, SD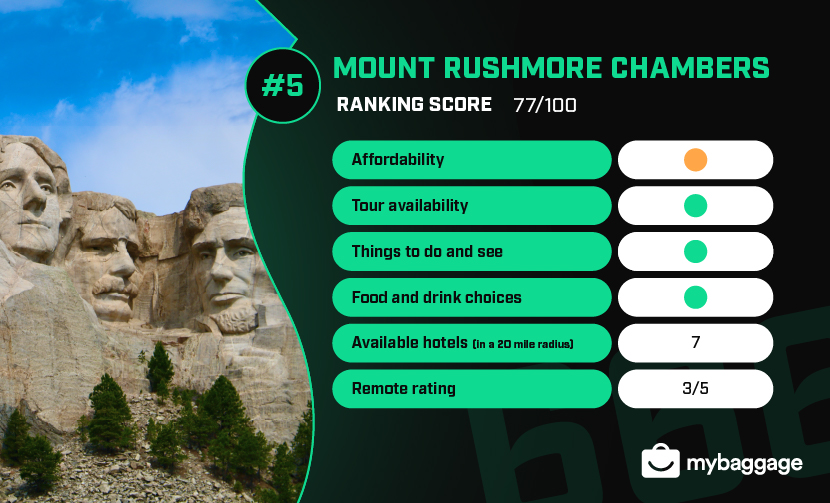 Now, the four 60-foot heads of Presidents George Washington, Thomas Jefferson, Theodore Roosevelt and Abraham Lincoln may not be a mystery by themselves. But did you know about the secret Mount Rushmore Chamber? A small, concealed chamber behind the head of Lincoln was intended to serve as a Hall of Records to tell the complete story of the United States' history. Left unfinished, this chamber hosts a no-entry room that has become the source of a number of conspiracy theories.
Whilst visitors may not enter this public-forbidden passageway, you can enjoy the museums, hiking trails, evening sculpture lighting ceremony and so much more. Alongside 77 different food places to choose from, whether you prefer to ponder the mystery of what's inside the chamber or chow down on a burger, there's something for everyone.
6. Denver International Airport, Denver, CO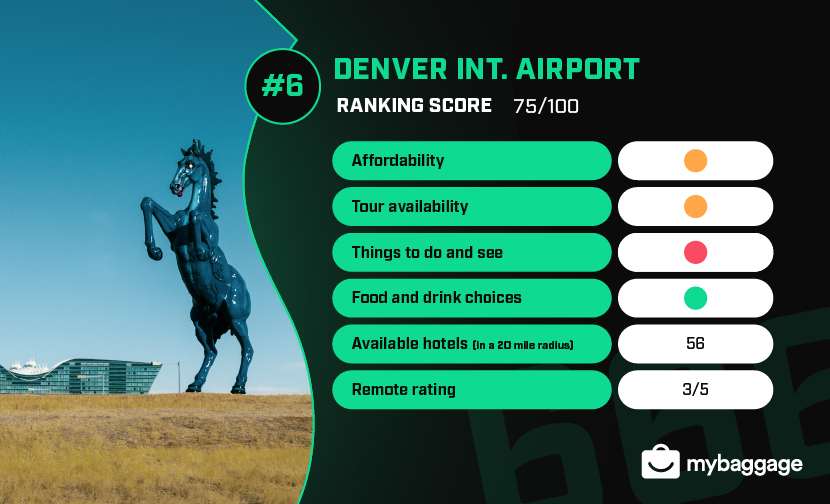 Denver Airport has been the subject of much speculation for years, from secret tunnels and secret societies, to being the Illuminati headquarters and having future-telling artwork that depicts the end of the world. Underground tunnels do exist underneath the airport, with some theorists claiming they were built as bunkers for the world's elite during the inevitable apocalypse, whilst others believe they directly lead to the North American Aerospace Defense Command (NORAD).
Whether you want to view the apocalyptic artwork, marvel at the grinning gargoyles, or see the 32-foot-tall sculpture of a blue horse nicknamed 'Blucifer', Denver Airport has lots to offer. Just over 20 miles from the nearest city and with an abundance of food places to choose from, you can visit this stop on Route 666 and stay in one of the 56 hotels with an average four-star rating.
7. HAARP, Anchorage, AK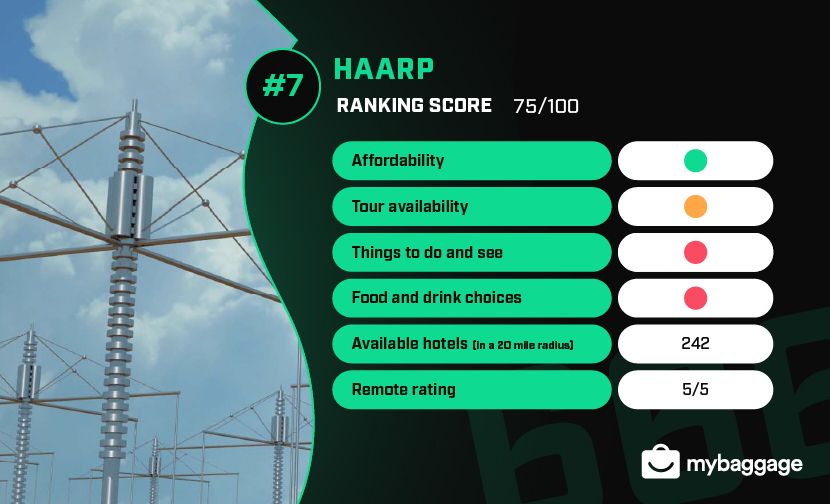 The High-frequency Active Auroral Research Program (HAARP) is the world's most powerful high-frequency radio transmitter used for the study of the ionosphere…yeah, we don't know what that means either. Owned by the University of Alaska Fairbanks and commissioned by the US Air Force and Navy, this fancy high-frequency technology is claimed by some to cause weather modification as part of weather warfare.
Although it was announced HAARP was to be shut down in 2014 (…or was it?) conspiracy theorists can still visit this place of debate as it is now open to the public. Those who want to be remote and go off-the-grid will be pleased to know you are 198 miles away from the nearest city, so you can truly immerse yourself in the world of conspiracy.
8. Area 51, Las Vegas, NV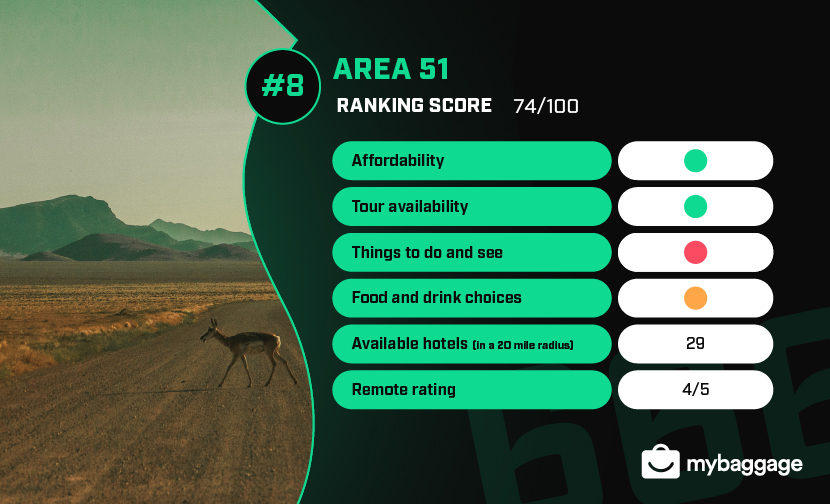 No conspiracy theory road trip is complete without the one and only, Area 51. The highly classified United States Air Force (USAF) facility located in Nevada is arguably the King of Conspiracy. The facility's operations are not known to the public, however it is commonly thought to be associated with experimental aircraft, bringing us nicely to the main theory: UFOs. Area 51 is believed to be the home of storage, examination and reverse engineering of alien spacecraft, the study of aliens, and the manufacture of aircraft based on alien technology.
Tourists cannot enter Area 51, or even go within a certain mile radius as it is heavily guarded by armed officers. However, you can explore the surrounding area dubbed the "Extraterrestrial Highway". Drive through desert terrain, and keep an eye out (and your camera ready) for any suspicious aircraft you may encounter. You can even stay the night in one of the 29 hotels around the area. 
9. Skinwalker Ranch, Salt Lake City, UT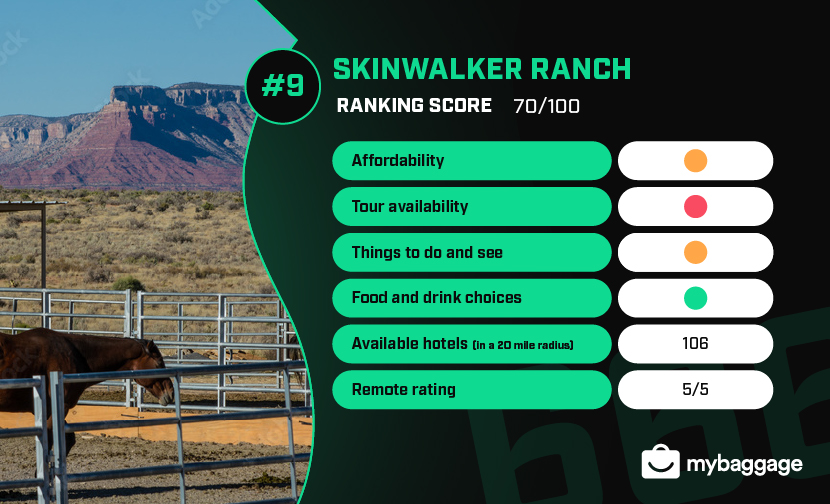 Skinwalker Ranch, also known as Sherman Ranch, is believed to experience visits from UFOs and paranormal activity, even being the focus of many scientific investigations. The cattle ranch has seen mysterious crop circles, mutilation of the cows, and those who have inhabited the property claim unexplainable, frightening events occurring during their time at the ranch. 
Those who dare can visit the surrounding area of Skinwalker Ranch, which is now run by the National Institute for Discovery Sciences, a paranormal research organization. The ranch itself is privately owned and not open to the public, but there have been many sightings of the unexplained around the Uintah Valley region. 
10. Flathead Lake, Missoula, MT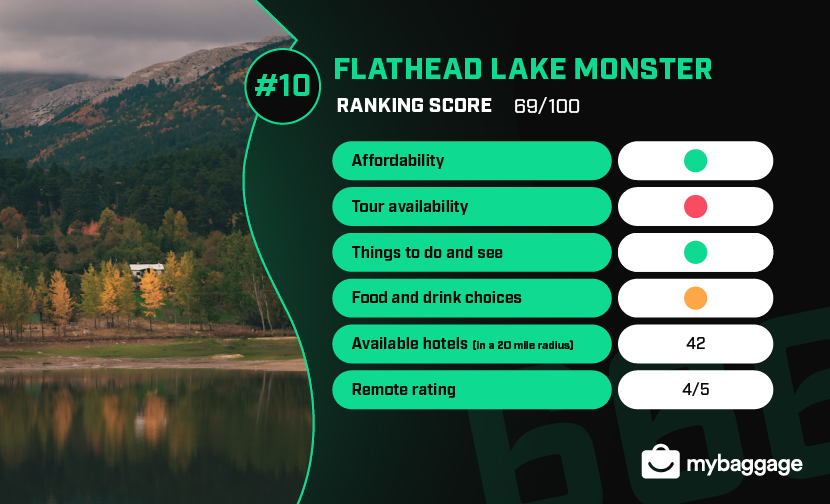 It's been over 130 years since the first reported sighting of the Flathead Lake Monster. Locals have named the lake monster 'Flessie', inspired by the Loch Ness "Nessie" in Scotland, UK. The Flathead monster is commonly described as a large eel-shaped creature, 20 to 40 feet long, with dark blue-black skin and black eyes. Although 'Flessie' may appear scary, there have been reports of displayed kindness, most notably from a 3-year-old boy who fell into the lake and claimed, "The Flathead monster lifted me up," when asked by his mother how he got out.
Those who visit Flathead Lake can enjoy breathtaking views of the largest natural freshwater lake. You're also only a stones throw from Canada as Flathead Lake marks the southern limit of the Rocky Mountain Trench, extending northward to British Columbia, Canada. So, you can take your trip across the US border if you fancy. If you take this stop on Route 666, you can enjoy boat trips, hikes, golfing, fishing, rafting and more. With an array of things to do, beautiful surroundings, and the chance of seeing 'Flessie' herself – what more could you ask for?
11. Winchester Mystery House, San Jose, CA
This 19th century home is named after the Winchester family, descendants of those who created the Winchester rifle. The mansion is allegedly haunted by those who were killed by this gun, but with 161 rooms, including 40 bedrooms and two ballrooms, surely there's enough room for the living and dead, right? From trap doors and secret passageways to staircases that lead to nowhere, the Winchester house holds more mysteries than just its paranormal occupants.
Now a national landmark, you can visit the Winchester House as a tourist attraction in California, with regular tours, onsite parking and nighttime tours for the bravest among us. With a wide range of activities nearby, hotels, and things to do, the Winchester House is well worth a visit.
12. The Sixth Floor Museum (JFK), Fort Worth, TX
The 36th US President, John F. Kennedy was assassinated in Dallas in 1963. Subject to a number of conspiracy theories, JFK's death remains a controversial topic across the world. Shooter, Lee Harvey Oswald was shot before ever going to trial, resulting in an ongoing debate of motive and if he really did it. Located at the very spot the shot was fired from is the Sixth Floor Museum, dedicated to the life and legacy of JFK.
Those who visit this museum can look through historic footage, photographs and displays, including a live view from the snipers' position on that fateful day. The Sixth Floor Museum is undoubtedly an important part of American history, and those who attend can pay their respects whilst learning more about the conspiracy shrouded assassination. With plenty to do outside the museum and in the city, this is a must-stop for any conspiracy theorist.
13. The Safeguard Complex, Langdon, ND
The Safeguard Complex is a cluster of military facilities in North Dakota that were built to provide launch and control for missiles. However, it was interestingly only operational for a mere 24 hours, despite huge costs of $6 billion. Fear of a nuclear arms race caused the program to end before the assembly of the first facility was complete (or so we were told). The huge pyramid structure that still stands is believed by many to be an indication that the structure is for the Illuminati, and is either still used by them today or serves as a Doomsday bunker.
In the middle of nowhere, this is the perfect spot for those who want to envelop themselves in the world of the unknown. The RSL-3 is open to public tours (one of the four missile facilities), but the rest are apparently abandoned and not open to visitors. With only two hotels in the surrounding area, you can't get any more off-the-grid than this.
14. Roswell, Roswell, NM
The 1947 crash of a US Army aircraft was initially reported by a Roswell Army Air Field (RAAF) press release, stating that they had recovered a "flying disc" from a ranch near Roswell. The Army quickly retracted the statement and changed their story to a "weather balloon" and thus a conspiracy theory was born. Thought by many to have actually been the crash site of a UFO, including the bodies of aliens which was then covered up by the military.
There are now a number of dedicated museums in the area, as well as alien conventions. Although Roswell can be explored in a day, it's certainly worth the visit for any conspiracy lover as it has held a grip on the United States for decades, and who knows, you may witness some extraterrestrial activity, too…
15. Bayou Corne Sinkhole, Baton Rouge, LA
Our final stop on Route 666 is the Bayou Corne sinkhole that was created from an 'accidental' (wink, wink) drilling for concentrated salt by the Texas Brine Company. However, they dispute this. The collapse caused oil and methane gas to rise from underground, appearing as bubbles on the surface of the water. The sinkhole is still growing to this day and is the subject of conspiracy theories, as witnesses have claimed to see 'hell' within the hole and many believe the pit is somehow linked to the Gulf of Mexico and New Madrid. Geologists have also struggled to explain this ever-expanding scar in the earth.
In 2014 officials declared the area no longer posed a risk to the public and is, therefore, a must-visit on our conspiracy road trip. With affordable accommodation in the area, you can explore the sinkhole and everything else Louisiana has to offer, as Baton Rouge is home to numerous landmarks and museums. 
The top five conspiracy spots for foodies
After a long day of looking for aliens and trying to solve some of the biggest mysteries in the country, you're going to work up an appetite. Below, we have ranked the top five conspiracy locations with the highest number of places you can grab a bite to eat. 
| | | | |
| --- | --- | --- | --- |
| RANK | STATE | CONSPIRACY | NUMBER OF FOOD SPOTS |
| 1 | CALIFORNIA | CECIL HOTEL | 200+ |
| 1 | TEXAS | THE SIXTH FLOOR MUSEUM | 200+ |
| 3 | ARIZONA | SEDONA VORTEX | 189 |
| 4 | CALIFORNIA | REDWOOD NATIONAL AND STATE PARKS | 156 |
| 5 | NEW MEXICO | ROSWELL | 94 |
The top five conspiracy spots for lovers of the outdoors
Route 666 offers so much more than just a chance to investigate and learn more about conspiracy theories. You can also enjoy stunning views and local outdoor activities in the surrounding area. So, for those who like to be outside and at one with nature, here are the top five you should visit.  
| | | | |
| --- | --- | --- | --- |
| RANK | STATE | CONSPIRACY | OUTDOOR ACTIVITIES |
| 1 | CALIFORNIA | CECIL HOTEL | 498 |
| 2 | CALIFORNIA | WINCHESTER MYSTERY HOUSE | 309 |
| 3 | CALIFORNIA | REDWOOD NATIONAL AND STATE PARKS | 141 |
| 4 | NEW MEXICO | ROSWELL | 42 |
| 5 | GEORGIA | GEORGIA GUIDESTONES | 13 |
| 5 | MONTANA | FLATHEAD LAKE | 13 |
The top five conspiracy spots for a luxurious stay
Route 666 is going to rack up some serious miles, so for those who want to lay their head in luxury, we've ranked the top five conspiracy locations with the highest averager hotel star rating. Who said conspiracy investigations couldn't be lavish?
| | | | |
| --- | --- | --- | --- |
| RANK | STATE | CONSPIRACY | AVERAGE HOTEL RATING |
| 1 | CALIFORNIA | REDWOOD NATIONAL AND STATE PARKS | 5 |
| 2 | COLORADO | DENVER INTERNATIONAL AIRPORT | 4 |
| 3 | N. DAKOTA | THE SAFEGUARD COMPLEX | 4 |
| 4 | LOUISIANA | BAYOU CORNE SINKHOLE | 4 |
| 5 | TEXAS | JFK MUSEUM | 3 |
The top five conspiracy spots to go off-the-grid
Some prefer the liveliness of a city and otherwise prefer the peace and quiet of a remote location. For the latter, we've got you the best spots to take some well-deserved time away from everyday life and immerse yourself in the world of conspiracy theories. 
| | | | |
| --- | --- | --- | --- |
| RANK | STATE | CONSPIRACY | DISTANCE FROM NEAREST CITY |
| 1 | CALIFORNIA | REDWOOD NATIONAL AND STATE PARKS | 329 miles |
| 2 | ALASKA | HAARP | 198 miles |
| 3 | ARIZONA | SEDONA VORTEX | 185 miles |
| 4 | LAS VEGAS | AREA 51 | 83 miles |
| 5 | MONTANA | FLATHEAD LAKE | 69.5 miles |
So, to all those who fancy taking on our Route 666 road trip, we hope you find what you're looking for on your adventure…or perhaps not (I mean, who wants to be encountered by some angry ghosts at Winchester House, right?). It can be difficult to fit all your luggage into the back of your car, so why not get My Baggage to do the hard work for you, so you can focus your energy on capturing that all-important photo of 'Flessie'…
Methodology
We set out to find the top conspiracy destinations around the US, creating a travel hit list for conspiracy lovers in the form of a 'Route 666' travel guide. 
They have been ranked on a list of factors including:
Distance from the nearest city

Accessibility

Number of hotels nearby the conspiracy

The average cost of hotel 

Star rating of the hotel

Google star rating of the conspiracy

Things to do whilst there, such as tours & sightseeing, outdoor activities and amount of choice for food and drinks

Distance from nearest city
Each metric was ranked from high to low (the highest figure being awarded the highest score and the lowest being the opposite) the exception for this was the distance from the nearest city or town to the site, which was the shorter the distance the higher the score. 
 We considered the popularity and search data of these conspiracies and if they were popular enough with the American public to make the list. From KeywordTool.io we gathered what was the average google search volume from the past 12 months and trends as well as YouTube. 
We then calculated the sum total of each scored metric to then have a final ranking out of 100% to determine the order in which conspiracy was the most exciting, trending and trust friendly/accessible to visit.
---
ABOUT MY BAGGAGE
My Baggage is a door-to-door luggage shipping company, if you need to travel to any of the destinations of the 666 trail then why not send your luggage ahead? You can travel stress-free and not worry about your luggage disappearing. With My Baggage you can send luggage, boxes, and sports equipment door to door, simply book online and we will collect your items from your front door.