Do you love to travel but also want to keep your carbon footprint in mind? Why not travel to some eco-friendly destinations? In celebration of Earth Day, we've put together our list of the top 10 eco-friendly destinations to visit in 2019.
What is eco-friendly tourism?
Eco-friendly tourism is tourism that is travel that takes into consideration natural conservation areas.  It sustains well-being in the local environment and involves education to conserve the local ecosystem.
Costa Rica

Costa Rica leads the way as one of the most successful ecotourism destinations in the world. It is home to the largest percentage of protected areas in the world. This country in Central America single-handedly supports 5% of the world's biodiversity. It boasts 20 natural parks, 8 biological reserves, 800 miles of idyllic coastline and an outstanding 98.1% of its electricity coming from renewable sources. Take in the variety of wildlife from sloths to Jaguars or rare species of lizards and birds, relax on pristine beaches, explore protected rainforests and hike dormant volcanoes. This destination has plenty of eco-conscious accommodation and activities from staying in treehouses to zip lining the forest treetops, you'll have found your eco-paradise in one of the happiest countries in the world.
Slovenia


Slovenia borders the Italian Alps. It is often overlooked as a tourist destination, but this country is incredibly eco-friendly. It has a sustainability policy which ensures that 75% of electricity in Slovenia is from hydro-electric dams, what's more, its capital Ljubljana was voted as the European Green Capital for 2016. Ljubljana is not like most capital cities, the buses run on natural gas and there is an urban electric train. You can enjoy mountain hiking, and visiting eco-friendly farms, offering a unique insight into local life. This will also, in turn, help support the local economy. It really is a truly guilt-free destination.
The Galapagos Islands


The Galapagos Islands are a living, breathing eco-museum. Located 600 miles off the coast of Ecuador, these islands have their own unique biodiversity with many native plants and species only being found there. The Galapagos Islands were declared the first ever world heritage site in 1978 and today 90% of the land is designated as a national park. A popular destination for nature lovers from around the world, here you can see rare species and experience diving and snorkelling. However, to ensure that no damage is caused to the islands visitor numbers are restricted and visitors are expected to respect these unique islands and be wary of anything they may leave behind.
Borneo


Borneo is famous for its biodiversity, lush vibrant rainforests, coral reefs and rare animals. This is a location that needs to be preserved for future generations. Enjoy snorkelling, scuba diving, trekking in the jungle and seeing orangutans in their natural habitat. The island puts sustainability at the top of its agenda and there are plenty of tourism companies to choose from that promote eco-tours that adopt the 17 United Nations Sustainable Development Goals as their guiding principles.
Bhutan


Have you heard of Bhutan? If you haven't don't worry, there's a reason! This Buddhist Kingdom is one of the least visited countries in the world and it's deliberate. The country is slowly developing its tourism industry to preserve natural resources and protect its ancient and unique culture. As a tourist, you will have to pay a pricey $250 tourist tax per day but this money goes straight back into the local communities and ensures you have an official guide, food, transportation and accommodation. Nature is an important factor in Bhutanese culture and the country has a law that ensures that 60% of the country must remain forest to preserve it for future generations. Not that Bhutan has to worry, as the country currently absorbs more carbon than it emits!
Peru


Peru is a popular destination to tick off any bucket list, but it is much more than Machu Picchu. The country boasts over 25,000 species of plants and is dense in flora and fauna, 30% of which you can only find in Peru. Deforestation is still an issue within the country, however, the Pacaya-Samira National Reserve, the Manu Biosphere Reserve and the Tambopata National Reserve are the three largest protected rainforests in the world.
Patagonia


Patagonia is a region within the southern end of South America. It encompasses both Argentina and Chile and offers lots for nature lovers from glaciers, lakes to snow-capped mountains and national parks. Visit the Torres del Paine National Park to see an unspoilt landscape boasting azure lakes and one giant blue glacier. There are only two recommended ways to visit the national park, by either trekking or horseback so as to ensure you don't damage the natural ecosystem.
Botswana


Botswana is the ideal location for anyone looking to experience a wildlife safari in Africa that is eco-friendly. This country is home to 40% of Africa's entire elephant population and offers a variety of eco-friendly lodges which focus on eco-conscious safaris. With over 38% of the country devoted to national parks in this country is a wildlife paradise. In their aim to offer guests a totally emission-free experience the country uses solar-powered boats and electrical vehicles for game viewing and many eco-lodges use solar lighting and recycled water.
New Zealand


New Zealand offers never-ending landscapes, glaciers, fjords, volcanic plateaus and subtropical forests. And if that's not enough you can also enjoy dolphin and whale watching. A third of the country's land is dedicated to national parks, reserves and heritage sites, so there's plenty to see and enjoy. To gain a unique insight into the country's legendary landscapes, visit The White Island, Mount Cook National Park, Poor Knights Islands Marine Reserve and Wai-O-Tapu Geothermal Reserve.
10. Iceland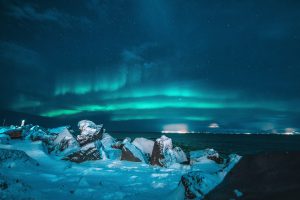 Iceland is one of the most environmentally conscious countries in the world. The country makes utilising its natural geothermal power for heat and electricity a top priority. It fights against ocean pollution and follows sustainable fishing practices. This breathtaking island offers you fjords, natural hot springs, glacier hiking, active volcanoes, whale watching and the chance to experience the Northern Lights. What's not to love?
We hope this article has helped inspire you to embark on your first eco-friendly adventure. Are you travelling currently and do you have a story to tell? Get in touch with us here.