You want to plan a new adventure with your bike, but don't know what to explore? We've put together 7 routes for those who want to reach new and challenging objectives.
Get your two-wheeler prepared and pack only the necessary stuff to complete the route. If you need a break from work this is one of the best ways to disconnect and recharge your batteries – flexibility and freedom are assured.
Let's start pedalling…
1. Via Francigena, Italy
The Via Francigena is a cycling and hiking route that starts at Canterbury Cathedral in England. It crosses France and Switzerland before reaching Italy, passing through many stunning cities. Although the total distance of the route is 1,700km/ 1,056 miles, there are shorter points from where to start it; for example, the Great St. Bernard Pass in Switzerland.
20 days is more than enough to complete the goal, but we suggest you taking some extra days just in case you couldn't resist the temptation of spending some time trying the food and wines specialties of Tuscany villages. One thing is guaranteed here: amazing landscapes.
2. Cornish Way, England
The Cornish Way runs from Land's End to Bude on the Devon border and runs around 200km/ 124 miles in length. This route is not the longest on the list but it's plenty of wonderful scenery, wildlife and charming seaside towns. Due to its shorter length, you certainly don't need to be a professional cyclist to reach the end of the trail in about 4 or 5 days, but if you're really fit you could do this in only two days. To make it even easier, the trail is divided in 3 different sections, which helps riders keep focused.
Why is this route so enjoyable? The reason, as we hinted before, is the magnificent nature surrounding it. What's more, this route meets the Bissoe Valley Nature Reserve, a perfect place to make a quick stop and breeze some fresh air.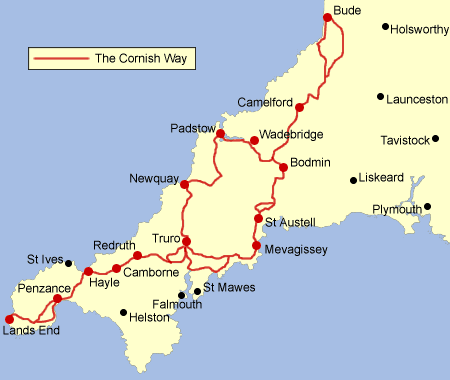 3. Danube Cycle Path
 The Danube Cycle Path is one of the first cyclist routes made and one of the most popular ones due to the number of countries and cities that it crosses. This route starts in Germany and finishes in the Black Sea (Romania), having a total length of about 2,900km/1,801 miles. Some of the countries you will see during this route are Austria, Slovakia, Hungary, Croatia and Serbia, amongst others.
You will also be amazed by the lovely geography close to the river path. The best part about this route is that within 2 or 3 days of cycling you can travelling through many different sceneries: mountains, forests, lakes and fields. The trail portion between Germany and Austria is considered the best part of the trip. The reason: 300km/ 186 miles of flat and almost car-free road making this ideal for all kinds of cyclists, including families with kids!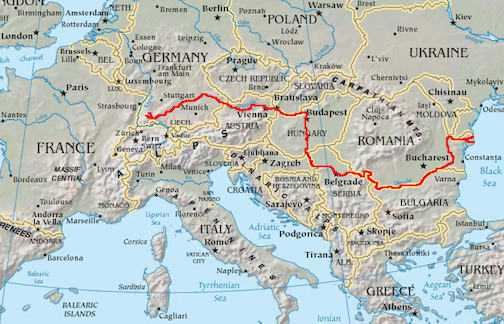 4. Romantic Road, Germany
 The length of this route is approximately 500km/ 310 miles. It goes from Würzburg to Füssen and offers interesting views of old towns, unique Bavarian villages and medieval cities. The good thing about this route – apart from the fantastic countryside – is that it's practically flat; which makes it much easier for less experienced cyclists.
The route is divided into 10 stages not very difficult to follow. Some of them are really easy to ride and others have some tiny slopes. Every stage ends in a picturesque city, with a lot of events to keep you entertained in the evening.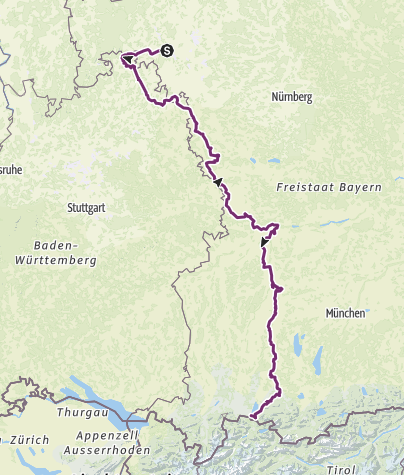 5. Camino Frances (Camino de Santiago)
 The Camino Frances is the most known part of the Camino de Santiago route and it goes from the city St Jean Pied de Port (a city very close to the Pyrenees in France), to Santiago de Compostela in the county of Galicia, Spain. The length of this route is 790km/ 490 miles, but you can also start it from points closest to the final target. Routes starting from Pamplona (covers 660km/410 miles) or Ponferrada (covers 200km/124 miles) are also very common among the pilgrims.
What's best about this route? For pilgrims, of course, the spiritual sense related to the trip. But… what else? A bunch of incredible landscapes views, unique and little villages around the path and fantastic food including tapas and first-class wines from La Rioja (best wine producing city in Spain).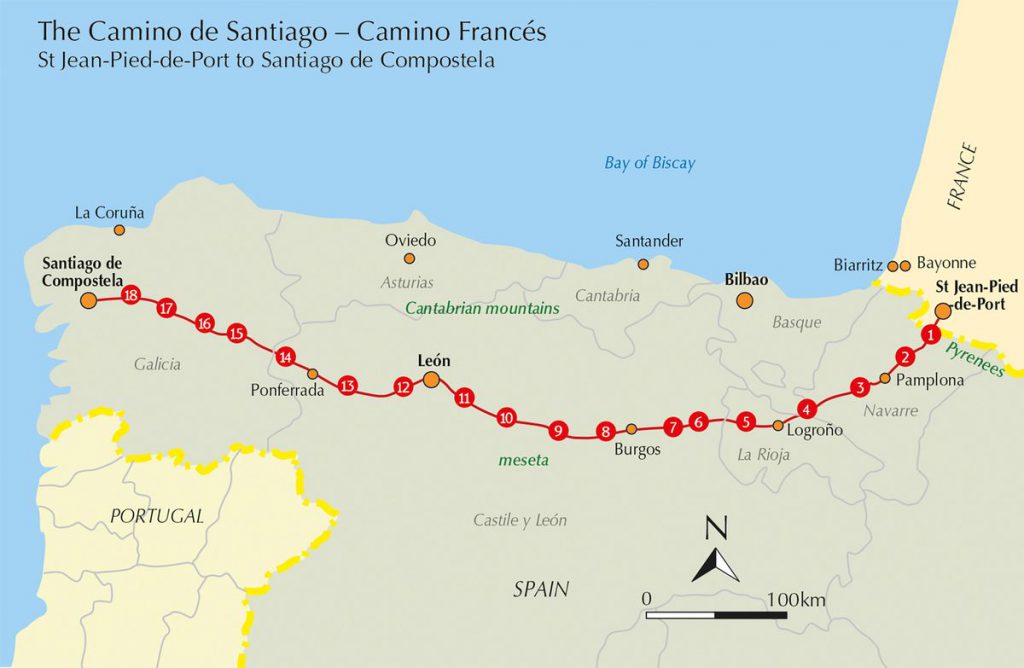 6. Baltic Sea Cycle Route
Also known as EuroVelo 10, this route covers 9 European countries and the its total length is 9,214km/5,725 miles. It's not a route made for cowards, so you better think about it twice before starting the expedition.
In this trip, you'll have the chance to go across the circumference of the Baltic Sea, where you will find beautiful and tiny fishing villages and a lot of stunning cliffs and beaches. It is better to avoid the freezing winter months, but if you can deal with it, you would have the chance to ride over frozen lakes and rivers. What's more exciting than that!? Maybe… finishing the exhausting route safe and sound.
7. Mediterranean Route
 This route, also named EuroVelo 8, is a long-distance route that starts in Cadiz (Spain), ends in Athens (Greece) and then follows until the island of Cyprus, doing a complete tour around it (optional). This two-wheels route is famous because of the number of historical cities in it such as Barcelona, Monaco, Nice or Venice. The eternal kilometres of costs and beaches inviting you to just relax is also a bonus.
The length of the route is 7,560km/4,697 miles and it crosses 23 UNESCO sites and 12 different countries. The city you choose as your starting is up to you, whichever you choose will be full of delicious food, wonderful landscapes and incredible weather.
What do you think about these 7 routes? Incredibles, right? Europe is home to thousands of cyclists a year and it continues growing. Pack your stuff and start your adventure!
Thinking about spending some days at your destination? You can get a quote with MyBaggage, schedule the day you will arrive to it and receive your luggage in the hostel/hotel reception you prefer. Also, if you're thinking of starting the route from another city or country, get in mind that we can send bicycles and equipment worldwide to make your trip easier.