There's no shortage of Romantic Destinations around the world, from the stunning cobblestone streets of Quebec City, to the world famous canals of Venice. 
Whether you're planning a special anniversary or a birthday, a honeymoon, or just a spontaneous trip, we've compiled our top 10 picks of the Most Romantic Destinations to help you find the perfect place.

This is a city that always springs to mind when you think of romance, and with good reason, it's been described by many as one of the romantic cities in the world. Yes it's the city of light… Paris! Home to stunning architecture, world famous art and culture, as well as the fabulous array of bars, restaurants and big name shopping. Explore the Louvre and Musée d'Orsay, take a romantic Seine River cruise, or stroll along the Champs-Élysées and admire the Arc de Triomphe. Qui, Paris will be an experience you'll never forget.

Venice is a city like no other, with its iconic canals, romantic alleyways, and historic architecture. A gondola ride through the canals is an experience of a lifetime, as you take in the grandeur of the city. The hidden courtyards and squares provide a perfect backdrop for exploration, and the city's cafes offer a great spot to relax with a delicious drink and watch the world go by. For those looking for a romantic getaway, Venice is a must-visit – its unique atmosphere, delicious cuisine, and stunning views make it a place you won't soon forget.

Barcelona, Spain, is a city that exudes enchantment. From its deep history to its stunning architecture and beautiful beaches, Barcelona is a place like no other. Its people are friendly and welcoming and its food is second to none – there's something for everyone! There's a relaxed yet lively energy here that makes it a truly romantic destination. Whether you're looking for a romantic getaway or a chance to explore a unique city, Barcelona is the place to be.

If you're searching for a place that has a unique character and true style, look no further than Quebec City. This romantic, old-world city offers a European charm that will make your getaway unforgettable. Stroll along the cobblestone streets, admire the iconic Château Frontenac, explore the quaint Petit Champlain district, and sample the delicious French-Canadian cuisine. Quebec City has something special that will make your romantic trip one to remember.

Santorini is one of the most unique places you could ever visit! With its iconic whitewashed buildings set against the sparkling blue waters of the Mediterranean, it is no surprise why Santorini is one of the most photographed places in Greece. Not to mention, the gorgeous sunsets that will take your breath away! You will also find many historical sites, delicious local restaurants and cafes, and a vibrant nightlife that will surely make your romantic getaway unforgettable.

Hamilton Island Australia is an incredible tropical getaway situated in the heart of the Whitsunday Islands. Its stunning beaches, world-class resorts, and abundant wildlife make it the perfect destination for anyone seeking to explore the beauty of the Great Barrier Reef. Admire the remarkable views of the reef or take a leisurely stroll through the lush rainforest. If you're looking for a more laid-back experience, spend a day lounging on the white sand and soaking up the sun. You're sure to have an amazing experience on Hamilton Island!

The Indonesian island of Bali is an awe-inspiring destination, combining breathtaking natural beauty with a unique and vibrant culture. The locals, proud of their rich spiritual heritage, proudly refer to their home as the 'Island of the Gods'. Music and dance are significant parts of the culture and can often be heard in the streets. Colourful, freshly-picked petals are also a regular sight in Bali, as locals create daily offerings to honour their gods.

The Maldives are an extraordinary destination for a tranquil beach holiday. The azure waters of the Indian Ocean, the blindingly white sands, and the rows of swaying palm trees provide an idyllic backdrop to one of the world's most beautiful seaside retreats. With more than two thousand individual islands, the Maldives offer an unparalleled level of privacy, with some so small that they are home to just one hotel and house reefs that add a splash of vibrant colour to the horizon.

Exploring Charleston will make you feel like you've stepped back into a different era! Home to many unique areas that make up this one fabulous destination. With its cobbled streets and horse-drawn carriages, it's no surprise that this city is considered the cultural capital of the south. Here, you can dine on delicious southern cuisine, explore museums, visit historic districts, and enjoy the romantic atmosphere. There's something for everyone in this beautiful city!

Bruges in Belgium is a perfect destination for couples looking for a romantic getaway. Stroll along the picturesque cobblestone streets and enjoy the quaint cafes, restaurants, and shops. Take a leisurely boat ride through the canals and admire the romantic city from the water. There are many things to do including, the Belfry of Bruges, Markt Square, Rozenhoedkaai and Burg Square for a night of hand-in-hand exploration. Whether it is a romantic dinner, a romantic stroll, or a peaceful boat ride, Bruges provides the perfect opportunity to spend quality time together and create beautiful memories that will last a lifetime.
Travelling Soon?
Join the 150,000+ Happy Customers who have trusted My Baggage to ship their Luggage, Boxes & Sports Equipment around the world. Full online tracking is provided so you can monitor the progress of your shipment, and our friendly customer service team are on hand if you need help.
Our service is a simple and seamless one: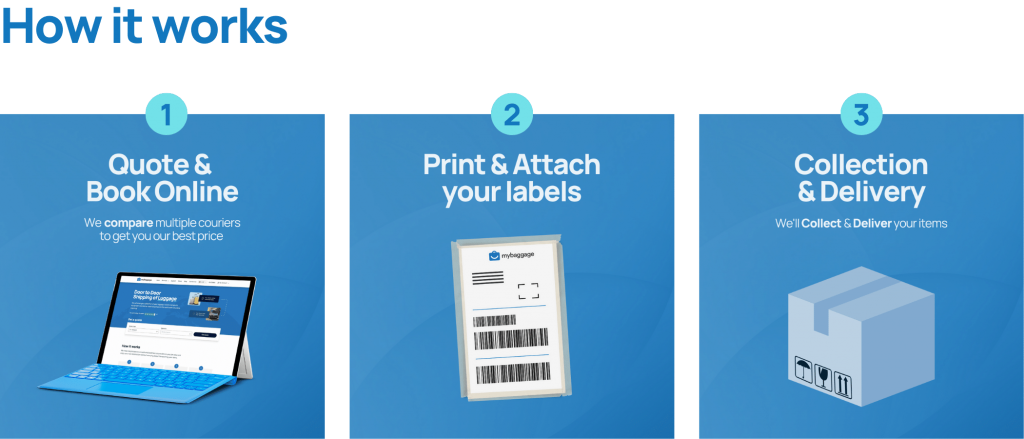 We're always here to help if you have any questions – check out our support section.
You might also like: