Thinking of going to university in Liverpool?
You should. It's one of the UK's most exciting cities, with thousands of students from across the world flocking there every year for the chance to study at one of its universities.
No matter what, you're guaranteed to have an amazing experience studying in Liverpool, but we have some top, insider tips that will make your stay that little bit more special…
Top Tips For Students Moving To Liverpool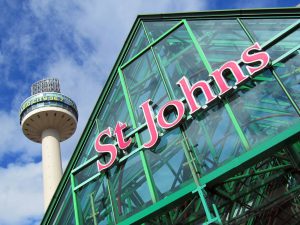 St John's Shopping Centre has some of the best clothes and shoe shops for decent/good quality but reasonably priced items that might I add, on occasion are just as nice as something you'll buy for about £60 in River Island. For you girls you'll find lovely playsuits or heels for about £20 and for you guys, you're sure to find a shirt for £10. So if you're living on a budget or not looking to break the bank, give St John's Shopping centre a visit.
Home Bargains will become your favourite shop for food and drink. Buy all your pasta, crisps, chocolate and alcohol for no more than £10. If you're Irish you'll also love it because it's one of the few shops in Liverpool that actually sell Tayto Cheese and Onion crisps.
Don't be scammed into paying for any gym memberships. Lifestyles gym provides students with free off-peak gym memberships. Something to remember if you're in need of a detox after fresher's week.
If you're looking for lun
ch, Bold Street is definitely the best place to go. Personally I don't think you will find a street with as many cafes or takeaways as bold Street. It located right next to Concert Square so if you fancy a pint after your lunch you're not far away from the next bar.
Lobster Pot do the best chips. The smell from Lobster Pot is enough to tempt you into going in. It is usually open to 3 am so if you're after a good, greasy kebab and chip after a few drinks, most definitely head to Lobster Pot.
Consider finding student accommodation close to the city centre or in close proximity to a Merseyrail train station or bus stop. Trains and buses are cheap and fairly regularly so if you find you miss one it won't be long until the next one. Living in the city centre means you are within 10 minutes walk of everything so you'll find you will be saving money on taxis or public transport (especially when heading out at night).
You'll never find yourself stuck for somewhere to watch the football. Whether you've grabbed yourself a ticket for a match at the stadiums or not you'll love the atmosphere and passion Liverpool has for football. Majority bars in Liverpool have numerous TV or projector screens that have all the big football games on.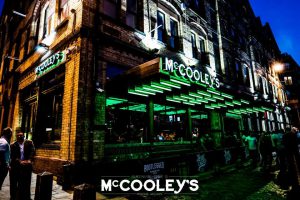 McCooley's in Concert Square is particularly good as it has lots of seating and 20 HD TV's and 6 projector screens usually screening more than one match on big match days.
There is some amazing food places in Liverpool. Almost Famous and Byron serve some of the best burgers, you'll not want to eat a burger anywhere else. Tribeca serve unbelievable pizzas as do Bella Italia. At Liverpool One food quarter you won't be stuck for something to indulge in.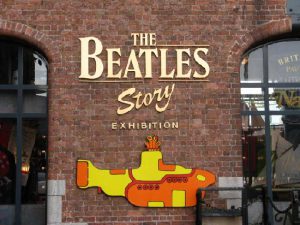 It's important to get yourself out of the city sometimes. There is so much to see in and around Liverpool so why move to Liverpool and not take advantage of it. Take a visit to the docks where you'll find the museums and The Three Graces. Visit the Beatles museum, take a trip to the football stadiums. Take a walk around Sefton Park and visit the beautiful palm house. Take advantage of everything Liverpool has to offer, it really is a stunning city.
---
You might also like:
20 Things That Only Make Sense To Liverpool Students
Find out more: