Each and every year, hundreds of thousands of people decide to relocate to a new country; whether it be for business purposes, to broaden their academic horizons by studying in a university or college overseas, or perhaps to seek a new life for them and their family. Whatever the reason may be, there's no doubt about it, uprooting your life to a new country can be nothing short of a fulfilling experience. That said, the process of doing so is certainly no easy feat, and even the very thought can be undeniably overwhelming.
In a bid to shed some light on the matter and make your move abroad as seamless as possible, we're detailing some of the most helpful relocation tips to help you on your way.
---
1. Organise visas and relevant documentation.
Although it is one of the more laborious processes involved in relocating, sorting your immigration as early as possible should be your top priority. If you hope to live and work on a temporary or permanent basis in your new country, you will need to have the correct visa. Don't leave it until the last minute – the time it takes for visa applications to process varies country by country, though it some cases it can take 6-8 months, or even a year.
You'll also want to spend some time organising all other relevant documentation, making sure they are all up to date and accessible. Documents such as your birth certificates, marriage certificates, up to date driving licences/passport/identification, medical records, etc. It's also worthwhile digitally backing up all of your important documents to be safe.
2. Save up more than enough money.
It really goes without saying that moving abroad can place a hefty financial strain on anybody's shoulders. As such, you really should strive to exceed your savings and take the time to ensure your finances are in order before your big move overseas. Unexpected, upfront expenses are common when relocating abroad, and the last thing you want is to be unprepared for any immediate setbacks. As well, in the instance that it might take you a little bit longer start earning an income than you hoped, research the cost of living and be sure that you have enough to cover all expenses before you have money coming in.
3. Start looking for accommodation straight away.
Something that should be high on your list of priorities is finding a place to live. Living out of a hotel room when you arrive won't be ideal for too long – finding a place you can call home will help you to settle in. Start researching online before you go to make the whole process easier when you arrive, and in the meantime, book a short term apartment rental.
4. Have the first step planned before you jump.
Sometimes, spontaneity can get the better of us. And, in some situations, it can be a good thing! But, when it comes to moving abroad, you should have your very first step planned, at least. Perhaps it's the town or city you'll stay in whilst looking for work, or what kind of work you'll be doing. Of course, you can move abroad with many aspects undecided, after all, it's impossible to know for sure how things will pan out once you get there. That said, planning out at least the basics will make your life much easier, and much less stressful.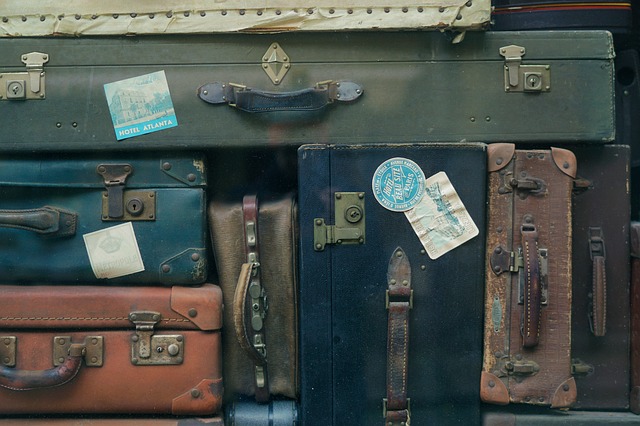 5. Carry only the essentials and ship the rest with My Baggage.
One of the trickiest things to get your head around when it comes to moving abroad is exactly how to get all of your worldly belongings from point A to point B across the water. Not only is airline baggage expensive, but travelling with all of your belongings in tow is only going to make it that much more difficult. And, while there are a lot of international shipping companies out there, they can be expensive, not to mention a slow process.
Thankfully, My Baggage offers a welcomed, affordable alternative. When you ship your personal belongings to your destination with My Baggage, you have the freedom to travel light. We offer a convenient door to door service and super fast shipping times, so you won't have to wait weeks (or worse, months!) for all of your stuff to arrive safely with you. We offer a generous weight allowance of up to 30kg/66lb per suitcase or box, so you can send stuff you may not be able to take on a plane with you. And, most importantly, our rates are super low. We ship to over 200 countries across the world, across 1,000+ routes, offering services to the USA from as little as £99, and to Australia for as little as £162.
You can get a quote from My Baggage any time, and our online booking system is available 24/7. If you have any questions or concerns, you can have a read through our FAQ section, or you can speak with our support team via telephone, email or live chat.
---
You might also like:
The Ultimate Guide To Moving Abroad As An Expat
Learn more: